What is done with the food that is donated?
Families and individuals in need are assisted with food parcels, when supplies are available, for a short period of time upon request.
How Can I Help?
If you would like to be a part of this ministry, please bring non-perishable items to Life Church. Collection boxes are in the church entry. A few items requested include: canned goods, jams, teas, cereal boxes and oatmeal, healthy snack foods, etc. If you would like to make a cash donation to this project, please speak with Breda.
Christmas Hampers Initiative
Over the past four years, Life church has donated approximately 10 Christmas Hampers each year to bless families in our community. These are delivered to a local community centre for distribution to specially chosen families in the area. The remaining hampers were donated to a few selected families and individuals in need at the request of members of Life Church.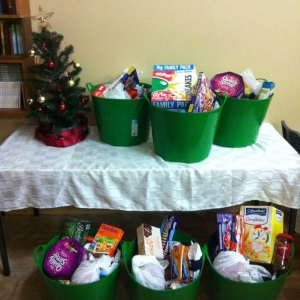 School Supplies Initiative
Life Church runs a drive each year to collect school supplies for children in need within the Portlaoise Community.
Requested supplies to be donated are:
Hardback copies
Plastic folders
A4 refill pads
Copybooks
Sum Copybooks
Script Copybooks
Long Rulers
Biros
Pencils
Crayons
Coloured Pencils
Pencil cases
Each summer it is announced in Life Church that we are beginning to receive donations. We start receiving school items or cash donations the following Sunday and continue for four weeks. At the end of the allotted time, items are collected and the cash donations are used to purchase the final supplies which are then delivered to the local community centres as they open after summer holidays.